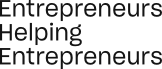 News & Insights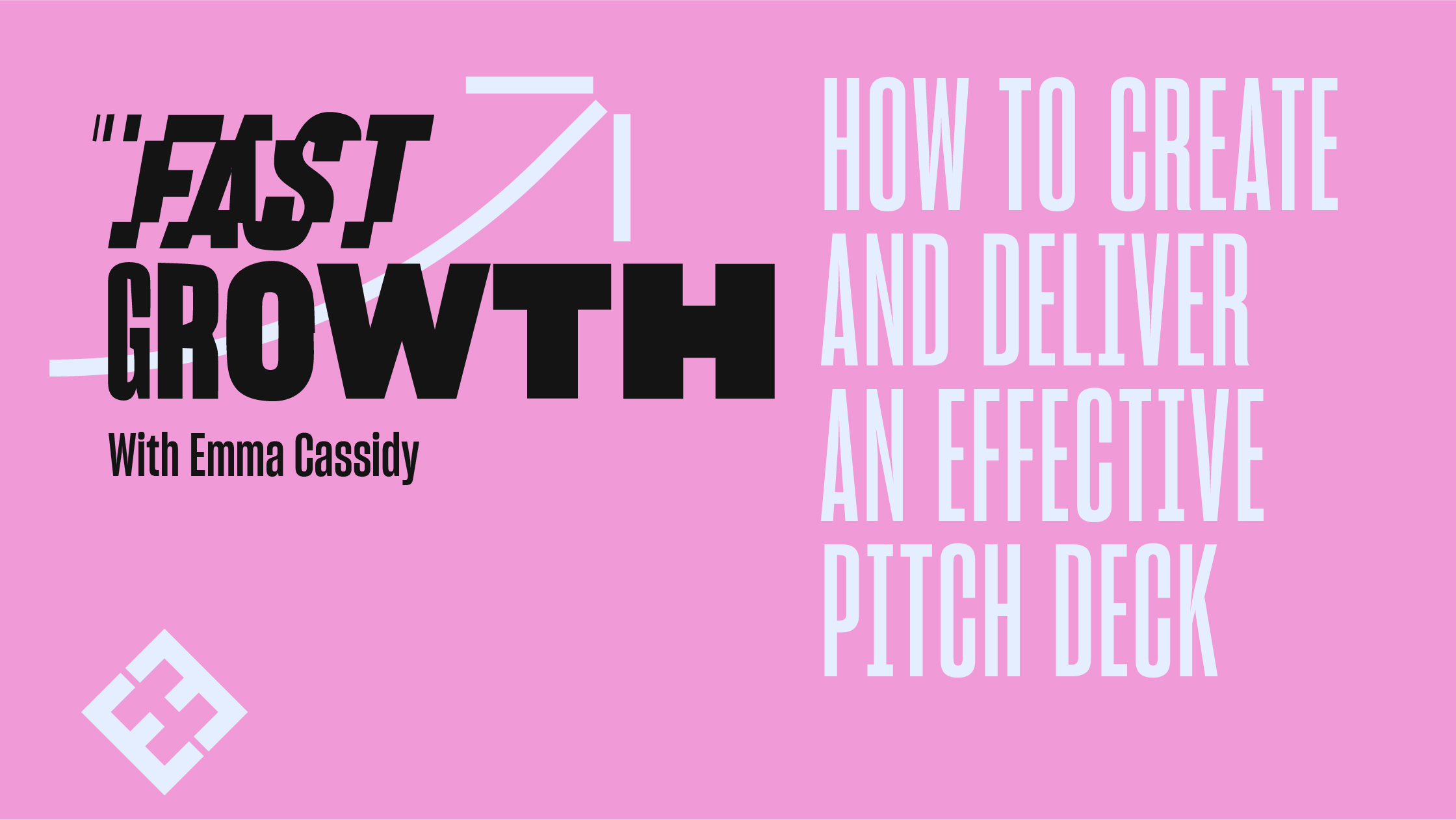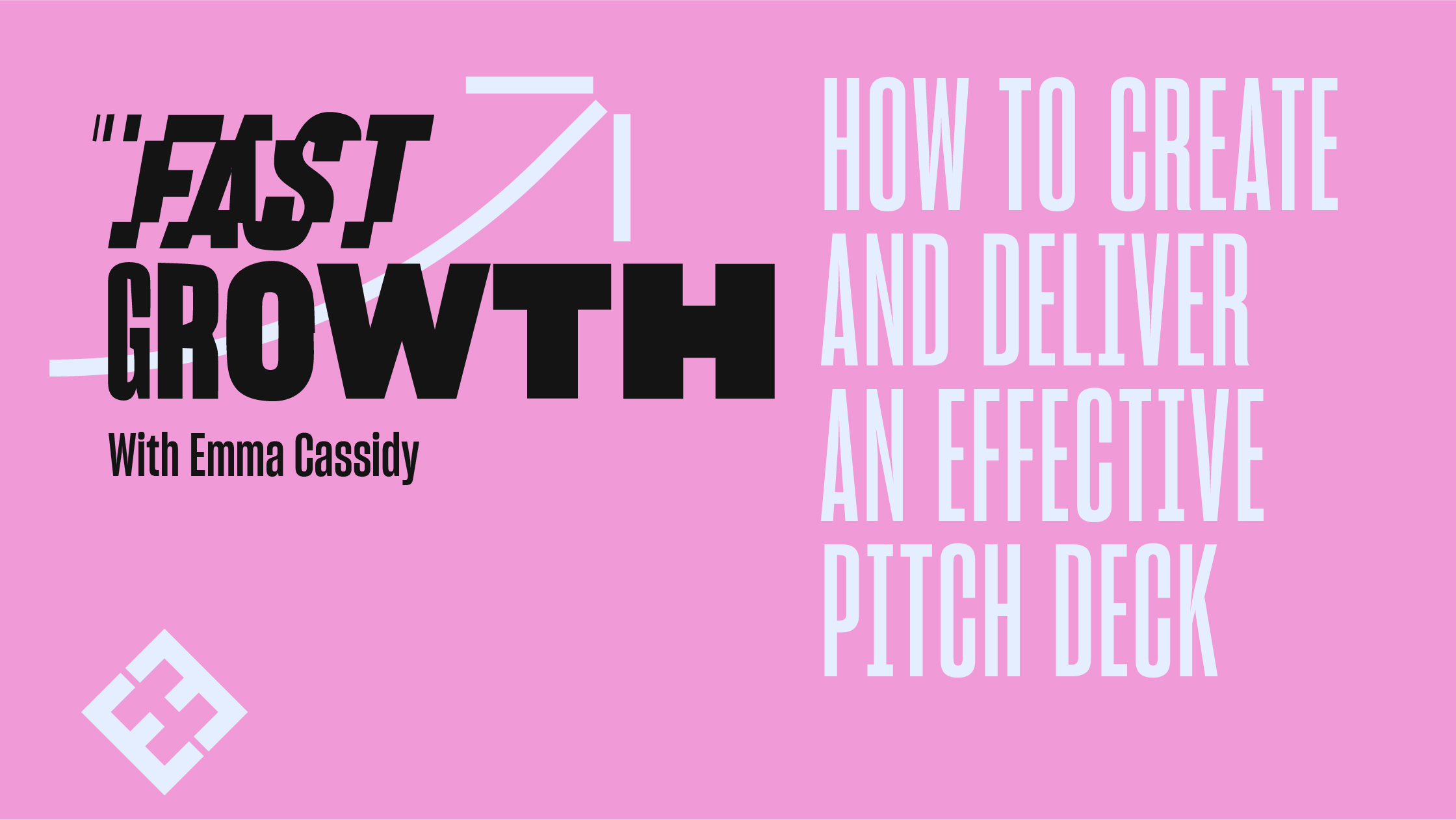 How To Create And Deliver An Effective Pitch Deck With Emma Cassidy
Creating and delivering a compelling pitch deck can be one of the hardest parts of being an entrepreneur. With most investors reviewing hundreds of pitch decks a month, how do you make sure yours stands out?
Recently on the Fast Growth Stories podcast, we were joined by Emma Cassidy, Investment Executive at DSW Ventures. You can listen to the full conversation here.
Emma has a wealth of experience when it comes to reviewing pitch decks, particularly from tech founders. She was able to help us answer two key questions that we often get from entrepreneurs: What makes a compelling pitch deck? What are investors really looking for?
While there's no one-size-fits-all approach to delivering an effective pitch deck, there are a few green flags that investors typically look out for:
Have a clear USP
Emma: "It sounds obvious but the deck needs to tell me what the company does and the problem you're solving. We receive a surprising amount of pitch decks where we can't work out exactly what the Unique Selling Point (USP) is.

It's mainly because the people writing the deck know the company, industry, and the market – and they assume that everyone else gets it. But there's a lot of things that we've never come across before; and if it's taking our team too long to work out the business' USP, it's not a good first impression. We think: how can this person sell to customers if they can't explain what they do in a deck?"
It's clear that your pitch deck needs to be succinct, digestible, and understandable. While investors will definitely want to delve deeper into the technical bits at the later stages, your first impression (which is the pitch deck) should be jargon-free and simple.
As Emma points out, investors shouldn't need a PhD just to understand what your business does!
And this leads us to another key point: the length of your deck.
Emma: "There's no need for a pitch deck to be more than around 20 slides. I've received pitch decks before with 70 slides. To put it into context, we receive over 200-250 pitches a month. We don't have the time to review 70 slides for each one of those pitches. So, I think founders just need to remember to be concise and get the key message across."
What questions do investors ask when reviewing a pitch?
Emma: "During our internal review meetings, we tend to go over a few key questions. Obviously, we begin with the most basic ones: 


What do they do?
Is this a problem that exists?
Is there a big market for this problem?
Do the founders look like they've got the right experience behind them for this market?
Does it sound defensible? Is there any IP?

"We have a pre-screening process where we'll get rid of any decks that don't fit our criteria at all. Essentially, we try to determine how many of our boxes the deck ticks and how it weighs up against the concerns/unknowns."
It's important for founders to do the due diligence before sending out their pitches. Adopting the spray-and-pray method (blindly sending out your deck to numerous investors) only leads to wasted energy and despondency, especially if most of those investors weren't going to invest anyway.
Do your homework and make sure that your business actually fits into their portfolio before sending out your pitch.
What else do you need for a successful investment round?
While your pitch deck is certainly important, there are other bits and pieces worth keeping an eye on if you're seeking funding and fast growth. Emma was able to shed some light on what these are:
Get a non-exec with relevant experience
Emma: "Get an adviser or a non-exec with relevant experience. It doesn't have to be in your exact industry. But if you're a SaaS business and you don't have any experience of scaling up a SaaS platform, find someone who does. Someone who has been through the fundraising process before will be able to give you advice, and help you iron out the questions or pitfalls that you might come across."
Get all your information ready
Emma: "Secondly, be prepared and plan ahead. You might have prepared a pitch deck but it's also important to have a small data room ready. Have your financial model ready and any other information that investors may want to look at if they progress past the first call.

We often ask for a written business plan (if there's one). While a business plan doesn't have to cover absolutely everything, it can consolidate our knowledge and help us understand what you do. It's also a good place for us to refer back to, if we're not sure about something related to the business. We may also ask for a copy of the share capital table, patent documents (if you have patents), and a more detailed competitor matrix to make sure that you understand what you're up against in the market."
Be reliable
Emma: "Finally, be clear and reliable in your communications. For example, if you tell an investor you'd send in your model by Friday, send it in by that date or let them know it's not going to come on time. While these tiny delays may not result in a rejection, it can be the final nail in the coffin, especially if the investor is already on the edge/ unsure."
Moving forward
It can be hard to juggle all the balls at once when it comes to seeking investment . However, having all these best practices in place will stand you in good stead. As Emma pointed out, even if the investment doesn't progress, you'd have made a lasting impression (for the right reasons) on the investor.
At EHE, we work with both entrepreneurs and investors – we are all about supporting entrepreneurs. If you want someone to walk you through your pitch deck, let's talk!
Join our community of entrepreneurs to get access to key resources around business growth, and let's talk if you'd like to learn more about the specific support we offer at EHE Group.
Join our community
As well as investing in and mentoring businesses, we're creating a community of entrepreneurs, investors and technology enthusiasts.
Become part of the EHE community and benefit from:
Growth focused 'how-to' guides

Podcast interviews with seasoned entrepreneurs and investors

Invitations to our exclusive webinars
Ask questions to our expert Investor Panel